For Mobiles:
Important note:
This product is slightly used kit in good condition (condition 9/10)
wits minor marks of use, it comes with charger and it has 10 day
checking warranty,this product has been tested by experts and 100% original.


Apple iPhone 8 64GB Original Stock Pictures





Apple iPhone 8 Price & Specs


iPhone 8


A Beautiful Mind & Design.
iPhone 8 presents an all‑new glass outline. The world's most famous camera, now shockingly better. The sharpest, most intense chip ever in a cell phone. Remote charging that is genuinely easy. Furthermore, expanded reality encounters at no other time conceivable. iPhone 8. Another age of iPhone.

The durable glass ever in a smartphone.
The front and back component custom glass with a 50 percent more profound fortifying layer. Another steel substructure and a more grounded, aerospace‑grade 7000 Series aluminum band give extra support. Furthermore, an oleophobic covering lets you effortlessly wipe off smears and fingerprints.


Three new finishes.
i Phone 8 comes in three new glass completes: space dim, silver, and gold. A six‑layer ink process takes into consideration exact tones , murkiness, and rich profundity of shading. Furthermore, the color‑matched aluminum band supplements the glass flawlessly.
Resists water, splashes, and dust.
iPhone 8 is exactness designed at the tiny level to secure against water, sprinkles, and clean.
Wireless charging for a wireless world.
We've generally proposed iPhone to be a genuinely remote gadget, free from charging links and earphone lines. With a glass back and an inserted remote charging framework, iPhone 8 is intended for a remote future.
Introducing AirPower.
The astute new AirPower tangle gives you a chance to charge your good iPhone, Apple Watch, and AirPods anyplace on its surface.
Louder, more dynamic stereo speakers.
iPhone 8 highlights updated stereo speakers that are up to 25 percent louder and convey further bass. Wrench up the volume and appreciate wealthier sounding music, recordings, and speakerphone calls.
Advanced security at your fingertip.
With Touch ID, your unique finger impression is your protected secret word. Utilize it to in a flash open your telephone and sign into a large number of your most loved applications. Touch ID additionally empowers Apple Pay, which gives you a chance to pay in stores, inside applications, and on the web. Furthermore, later this fall, you'll have the capacity to send and get cash in Messages.
Precision‑engineered to resist water and dust.
The glass back enables easy wireless charging.
New 4.7‑inch and 5.5‑inch Retina HD displays.
Retina HD Display
Retina HD.
Now with True Tone.
All‑New Display
A Retina HD display that's more beautiful than ever. With True Tone, a wide color gamut, and 3D Touch.
True Tone

Brilliant Colors

Wide Viewing Angles


Retina HD Display
Retina HD Display
How would you make a show that is more mindful of the earth around you? By utilizing light‑sensing innovation and an extensive shading range to make everything on the screen look and feel more normal.
5.5"
display on iPhone 8 Plus
4.7"
display on iPhone 8
True Tone.
For a more comfortable viewing
experience.
Genuine Tone innovation utilizes a progressed four‑channel encompassing light sensor to unobtrusively change the white adjust onscreen to coordinate the shading temperature of the light around you. So pictures on the show look as normal as on a printed page, diminishing eye fatigue.
The best color accuracy in the industry.
Exact hues and high difference make all that you take a gander at — photographs, motion pictures, diversions, news — fresh and enthralling. With a wide shading array and the best shading exactness in the business, your photographs will look as dynamic as genuine living.
Cameras
The world's most popular camera. Even better.
All‑New Sensor
iPhone 8 features a more advanced 12MP camera. With a larger, faster sensor. A new color filter. Deeper pixels. And optical image stabilization for photos and videos.
Optical Zoom

The wide‑angle and telephoto lenses on iPhone 8 Plus enable optical zoom, as well as digital zoom of up to 10x for photos and 6x for videos.
Cameras
How do you improve on the world's most popular camera? By introducing a new sensor and powering it with A11 Bionic. It makes advanced photographic techniques easy and automatic — so everyone can shoot unbelievable photos and movies. iPhone 8 cameras are also designed for the most immersive and incredible augmented reality experiences.
12MPwide-angle and telephoto cameras on iPhone 8 Plus
12MPwide-angle camera on iPhone 8
iPhone 8 Plus Dual Cameras
iPhone 8 Plus has a wide‑angle camera with an ƒ/1.8 six‑element lens, optical image stabilization, and a larger, faster 12MP sensor. It also has a powerful ƒ/2.8 telephoto camera. Together these two cameras enable optical zoom and Portrait mode.
iPhone 8 Camera
The wide‑angle camera on iPhone 8 is the same one found in iPhone 8 Plus — featuring an ƒ/1.8 six‑element lens, optical image stabilization, and a larger, faster 12MP sensor.
New advanced ISP.
Photo ops, optimized.
Portrait mode.
For a more beautiful depth‑of‑field effect.Beta
Portrait Lighting.
Real-time studio lighting effects.
Natural Light
Your subject's face in sharp focus against a blurred background.
Photo by Geordie Wood
Studio Light
A clean look with your subject's face brightly lit.
Photo by Julia Noni
Contour Light
Dramatic shadows with highlights and lowlights.
Photo by Geordie Wood
Stage Light
Your subject's face spotlit against a deep black background.
Photo by Geordie Wood
Stage Light Mono
Like Stage, but in classic black-and-white.
Photo by Michael Everett & Jamie Irving
Front‑facing camera.
Focus on yourself.
With Retina Flash, wide color capture, advanced pixel technology, and auto image stabilization, the 7MP FaceTime HD camera shoots selfies that stand out.
New filters.
Better flash.
More fun.
From the moment you capture a photo to your final edit, iPhone 8 makes it even easier to create spectacular shots. And next‑generation HEIF compression technology lets you take new photos with the same quality as before at half the file size. So snap away.
Live Photo Effects and New Filters
Transform a Live Photo you love into a fun video loop. Make it bounce back and forth. Turn fireworks into bright streaks across the sky with a beautiful long exposure effect. And apply new filters for more natural skin tones or to add classic looks to portraiture.
Quad‑LED True Tone Flash with Slow Sync
Slow Sync flash combines a slow shutter speed with a short strobe pulse. It's useful in low light when you want a brighter foreground subject with a properly exposed background. And the Quad‑LED True Tone flash delivers illumination that's up to 40 percent more uniform, helping to reduce hot spots.
Videos that belong
on the big screen.
Whether you're a proud parent, a film student, or a working director, iPhone 8 lets you shoot phenomenal movies. An Apple‑designed video encoder performs real‑time image processing for optimal quality. And with HEVC compression, you'll get the same video quality as before at half the file size.
Slo-mo1080p up to 240 fps
Advanced video stabilization uses a new, larger sensor and the powerful ISP to stabilize everything you're shooting. And optical image stabilization is designed to reduce motion blur and handshake in low‑light videos. So your movies look steady even if your hand isn't.
Photos taken
with iPhone 8.

We asked amateur and professional photographers around the world to take iPhone 8 and shoot what inspires them. The images they captured are beautiful examples of what the cameras on iPhone 8 can do.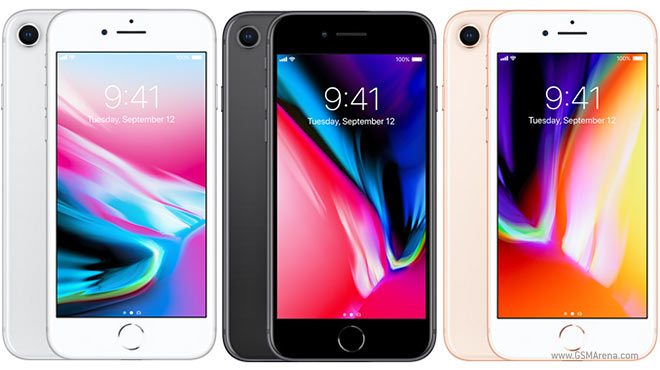 Apple Iphone 8 64GB - Slightly Used